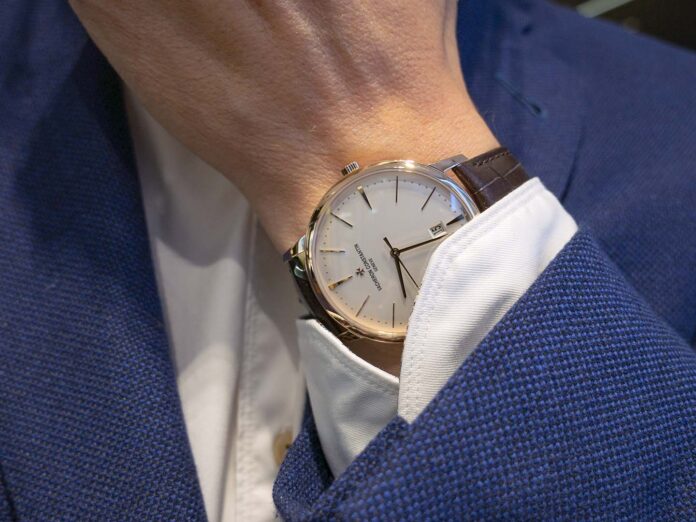 Vacheron Constantin Patrimony is an elegant collection of dress watches that complements the style-conscious wardrobe.
Almost every serious watch brand has its own interpretation of the dress watch, which is especially appealing to business users. Dress watches can be found in all price ranges and materials, but if you are looking for real elegance on your wrist, many swear by precious metals.
Other definitions that can be combined with dress watches are also restrained in terms of size as well as thickness (or in this case thinness), the simplest possible dial, and a high-quality leather strap. If you're just looking for the best, check out Vacheron Constantin's Patrimony collection.
Vacheron Constantin Patrimony
One of the benefits of the Patrimony collection is availability. Where the manufacturer's sporty Overseas collection is mostly sell out by retailers, Patrimony offers the golden opportunity to get caught up in Vacheron Contantin usually right away if a model that teases your own taste buds just happens to be on the shelf.
Another strength of Patrimony lies in the versatility of the collection, with watches available for men and women, with a wide range of complications (from the simplest hour and minute pointers to the perpetual and minute repeater) and in a variety of sizes from 36 millimeters to 42.5 millimeters.
If you are looking for a charming gold watch for business to red carpet use, the Patrimony duo below is the perfect pair for a gentleman and a lady.
In addition to mechanical in-house movements (manual and automatic) and sapphire crystals, all Patrimony models are combined with precious metal cases in either red gold, yellow gold, white gold or platinum. With the exception of one all-gold model, the collection relies on straps made of an alligator with a suitably soft wrist feel.
Our choices
From the versatile Patrimony collection, I highlight two 1950s vintage-inspired models that are both 40mm in size in proportion to a man's wrist. Of these, the light-colored automatic model (ref. 85180 / 000R-9248) packed in 18-carat red gold case with a date display is the choice for those looking for a classic dress watch. If, on the other hand, you are looking for a more discreet dress watch in a restrained way, I would look at the 18-carat red-gold case and blue dial manual model (ref. 81180 / 000R-B518).
Both models are also thin as dress watches, as the light-colored watch is 8.55 millimeters thick and the blue-colored watch is only 6.79 millimeters thick. Both models are waterproof up to 30 meters and the power reserve is reported to be 40 hours.
Vacheron Constantin, part of the Richemont Group, also comes with a piece of relatively rare watch history, as the manufacturer is one of six awarded the Geneva Seal of High Quality and Reliability by the City of Canton and the Canton of Geneva.
But most of all, Vacheron Constantin Patrimony is the choice of a style-conscious and high-quality watch user who is suitable to go to all tables and events.
The prices
Patrimony collection starts from 20,500 euros. Blue dialed ref. 81180 / 000R-B518 cost 20,500 € and light-colored ref. 85180 / 000R-9248 cost 29,600 euros.
The watches were given a test and photography loan by Osk. Lindroos Helsinki (Finland). Thank you for your cooperation.