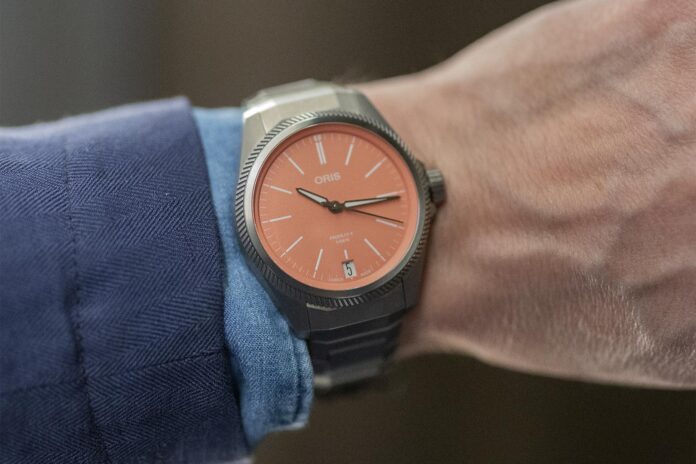 The Oris ProPilot X Calibre 400 is a sporty pilot watch that combines the high-performance Calibre 400 with the lightness of titanium.
One of the winners of the Watches & Wonders Geneva fair is the Oris, which introduced the titanium-case ProPilot pilot watch, which is powered by the manufacturer's in-house Calibre 400 movement with five days power reserve, 10-year recommended service intervals and a 10-year warranty.
The set is packaged in a smart 39mm case and is available with three dials in different colors. Of these, after a little deliberation, the salmon red model became my personal favorite.
However, my choice is not easy, as the velvety dials are all very successful. With a gray dial, the ProPilot becomes monocratic and has the most distinctive titanium watch feel. The blue version is understated and probably appeals most to consumers. But there's also a place for the salmon-red model, and it's easy to make an Instagram favorite out of it – and precisely because of its color, it's also a great choice for style-seeking points. But as has been said, none of these go wrong.
The Oris ProPilot X Calibre 400 watches feel very light on the wrist, which is a great feature of the titanium watch. The design of the watch is based on a single unit, with the chamfers repeated uniformly in the watch case and in a high-quality titanium bracelet. The watch is 39 millimeters in size for most wrists and the thickness is also very reasonable at 11.8 millimeters and the lug-to-lug dimension (i.e. the height of the watch) is a moderate 47 millimeters.
The watch has a convex sapphire crystal that is reflective protected on both sides. This gives the watch good readability from all viewing angles. The operation of the movemenbt can also be monitored through sapphire glass. The novelty has a screw-down crown and a water resistance of 100 meters, so it is a very good watch for all kinds of use.
The ProPilot X Calibre 400 is a success
And, as I said in my preliminary presentation, the price range of the new ProPilot X Calibre 400 in-house and titanium Swiss watch is attractive, attracting just under four thousand euros (3,900 €).
Read more at Oris.ch